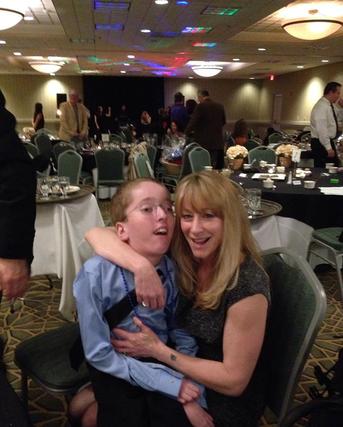 Ilyce and Max Randell
Ilyce's son Max was born with Canavan disease. At four months of age, he began to show Canavan disease symptoms. Ilyce has fought for 19 years for Canavan disease treatment for all children born with Canavan disease. See the articles below for more Canavan disease facts.
Exciting Medical News from Ilyce:
It is my honor and pleasure to share exciting news from Aspa Therapeutics about their gene therapy research. The official announcement is included below, but first I would like to explain why as the parent of an affected child I am so excited about this announcement. Three different delivery methods were tested and it was discovered that more new genes were expressed in the appropriate places through IV delivery. My son has had seven holes drilled into his skull during two previous gene therapy surgeries, but Aspa has discovered that their delivery system is more effective with just an IV! I'm grateful that this company has the vast resources necessary to fully investigate every possible approach to delivering the corrected gene to our children in the safest, most effective and least invasive way possible. As a mom who has been through two separate gene therapy trials that both involved brain surgery this is the best news I've heard about gene therapy for Canavan disease in a very long time!
Announcement from Aspa Therapeutics:
"Abstract presented at ESGCT about Aspa's Canavan Disease gene therapy, on October 22, 2019
Aspa Therapeutics is pleased to share the news that a poster was presented on October 22, 2019 at the European Society of Gene and Cell Therapy meeting, describing an important development in gene therapy for Canavan disease.
The poster, written by David Scott and colleagues from the BridgeBio Gene Therapy laboratory, describes a study conducted in non-human primates comparing three different methods of delivering the gene therapy that Aspa Therapeutics is developing for patients with Canavan disease.
The researchers compared IV, (intravenous delivery, in which the treatment is administered through a small needle placed into a vein), IT (intrathecal, an injection into the cerebrospinal fluid in the space surrounding the spinal cord), and ICV (intracerebroventricular injection, where the treatment is infused through the skull into one of the large collections of cerebrospinal fluid that sits within the middle of the brain). The researchers then measured how well the therapy was able to reach the parts of the brain, spinal cord, and other tissues most relevant to Canavan disease.
While all 3 methods showed some ability to reach the targeted areas, IV delivery was optimal in reaching all brain regions, especially the deep brain structures that appear to be most relevant to Canavan disease.The researchers therefore recommended that that IV infusion be utilized to administer the Aspa investigational gene therapy to patients with Canavan disease.
IV infusion is one of the most common ways to administer treatments, and is the same mode of delivery used in the clinical trial that Avexis / Novartis recently conducted, leading to approval of their gene therapy for children with Spinal Muscular Atrophy Type 1 (SMA-1)."
They are on schedule for a treatment trial in 2020. Vector production and working with the FDA have already been underway for awhile, and families will not be asked to pay for this gene therapy! So much amazing news for our community.
The next step is to gather more information from families and patients for the natural history study required by the FDA. As the parent of an affected child I'm thrilled to participate in this study because it will bring the treatment out of the lab and to our kids more quickly. Aspa has been working with the FDA throughout this process to ensure that all required information will be supplied when the program is submitted for approval. The goal is to avoid unnecessary delays by submitting a near perfect application to the FDA on the first try!
Aspa will not be charging families to participate in the treatment trial or natural history study and they are even covering many of the costs associated with participation. To learn more follow the link below.
https://treatcanavan.com/