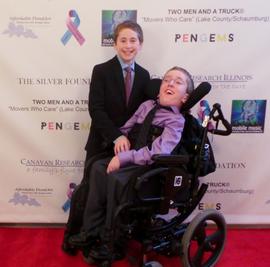 Alex pictured with his brother Max Randell. Max was born with Canavan disease, a neurological disorder. Maxie celebrated his 19th birthday on October 9th, 2016. Please help other children reach this milestone by supporting Canavan Disease Research gene therapy.
We need your help—finding a cure for Canavan disease was once thought to be impossible. Now, because of your donations, these precious children finally have a chance for a future. Please help us keep hope and the children alive. The innocent smiling faces on our website represent all the children who are battling Canavan disease.
As a rare disease, Canavan receives limited government funding, and we rely on private donations to support life-saving medical research. Developing a cure and treatment for Canavan disease has the potential to help millions of people, young and old. The benefits of supporting research to cure and treat Canavan disease can also impact the treatment of other neurodegenerative diseases, such as Parkinson's, Alzheimer's, Multiple Sclerosis, ALS, Tay-Sachs, and stroke.
We are a volunteer-based, nonprofit 501(c)(3) public charity, dedicated to supporting life-saving medical research. As a public charity, we qualify for company-matched funds and private grants. If you write in our name and address on United Way forms, your contribution will be directed to us.
Without continued funding, the crucial research to treat and cure Canavan disease cannot continue... and these children do not have the luxury of time. Because Canavan is a fatal progressive disease, these young victims are losing ground everyday. That is why we need your help.