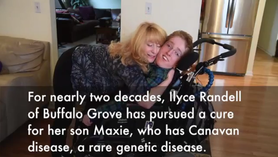 Canavan Disease Research (CDR) Is an International Division of
Canavan Research Illinois
The mission of Canavan Disease Research is to direct funding towards research aimed at developing therapies to treat and cure Canavan disease while networking families to form an educated community poised to reach the clinic. Our efforts have resulted in three gene therapy clinical trials. We have also funded the development of a combination of medicines to slow the progression of Canavan disease and help treat Canavan disease symptoms in some children; this is known as the "Canavan Cocktail." Canavan disease is a neurological disorder. Canavan Disease Research gene therapy trials funded by CRI have helped dozens of children live longer, healthier, and happier lives.
Canavan Disease Research was created by Ilyce Randell to manage and proliferate the larger national and international interests and collaborative efforts of Canavan Research Illinois (CRI). Ilyce Randell is the CoFounder, President, and Director of Patient Advocacy for CRI and CDR. Ilyce also writes and contributes stories for publication to The Mighty. As the parent of an affected child, she uses her experience to help other families affected by Canavan disease. Stories such as "To The Parents Seeking Experimental Medicine For Their Children" can aid families going through similar experiences. Check out our Partner Page on The Mighty. Canavan Disease Research is dedicated to helping children and families affected by Canavan disease, a genetic disorder.
Canavan Disease Research Leading the Way...
Ilyce Randell, through Canavan Disease Research, has successfully launched the world's first patient registry (the Canavan PIN). The PIN (Patient Insight Network) can help unite Canavan families throughout the world and enable us to gain a better understanding of the true incidence and prevalence of Canavan disease worldwide. This initiative is currently the only international registry for families affected by Canavan disease and the largest database of Canavan patients in the world.
Your family's experience living with Canavan disease can provide important information on how the disease progresses and affects both patients and families. As medicine is moving rapidly towards the clinic, and the patient's voice is becoming an integral part of both research and drug development—your insight is crucial.
Creating a shared network that collects experiences directly from patients and families is one of the most important things a community can do. This Canavan Disease PIN is an opportunity to build one central and international network of information on families living with Canavan. By gathering the experiences of families from around the world, we are creating a research-ready community poised to help drug developers and researchers get closer to treatments and a cure.
There is currently no other network of this kind for Canavan, where patients own their data, opt-in and choose what to share. Please help us by taking a few minutes to join us. If you know of other patients living with Canavan disease, please forward the information to them as well. Together, we can improve the future for all those touched by Canavan disease.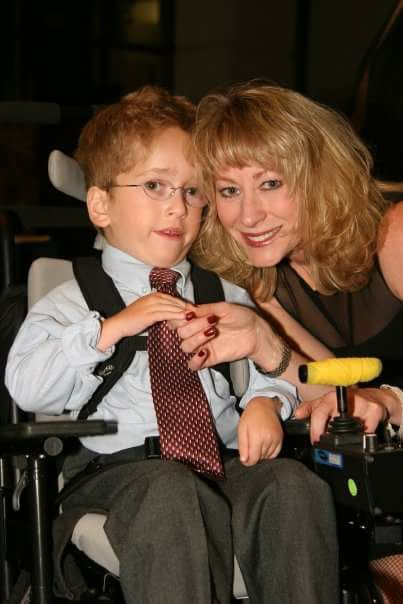 We invite all Canavan disease organizations to join this effort and unite the Canavan community in developing a resource that serves all families, researchers, advocates, and stakeholders.
Contact Us Today!
(800) 833-2194
[email protected]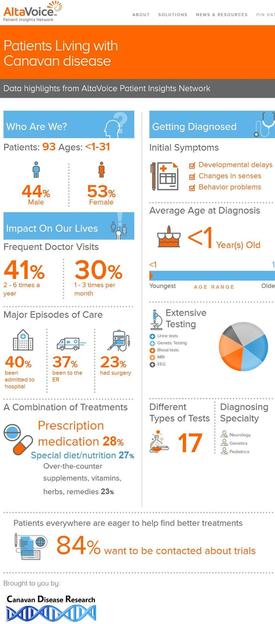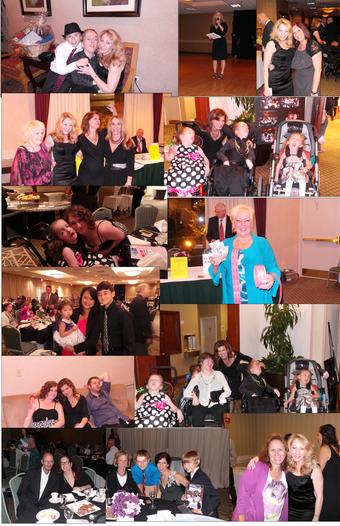 Canavan disease is a rare inherited genetic disorder that damages the ability of nerve cells (neurons) in the brain to send and receive messages. This disease is one of a group of genetic disorders called leukodystrophies. Leukodystrophies disrupt the growth or maintenance of the myelin sheath, which is the covering that protects nerves and promotes the efficient transmission of nerve impulses.
In Canavan disease, there is a mutation of the ASPA gene on chromosome 17. The ASPA gene produces an enzyme called Aspartoacylase. Aspartoacylase is responsible for breaking down N-Acetyl Aspartic Acid, or NAA in the brain. Children born with Canavan disease usually have extremely high levels of NAA which can be detected by urinalysis. But the most accurate way to definitively test for Canavan disease is through blood DNA testing. There are over 70 identified mutations of the ASPA gene and even two different mutations will result in a child born with Canavan disease. With so many variations of this mutation, there is a spectrum of severity in Canavan disease. Other factors such as the level and quality of care and the implementation of novel and experimental interventions can contribute to the health of each child and young adult. Contact us for more information about the "Canavan Cocktail." This combination of medications can help manage the symptoms of Canavan disease.
Neonatal/infantile Canavan disease is the most common and most severe form of the condition. Affected infants appear normal for the first few months of life, but by age 3 to 5 months, problems with development become noticeable. These infants sometimes do not develop motor skills such as turning over, controlling head movement, and sitting without support. Other common features of this condition include weak muscle tone (hypotonia), an unusually large head size (macrocephaly), and irritability. Feeding and swallowing difficulties, seizures, and sleep disturbances may also develop. Some children will develop more skills in these areas depending on the presentation of the disease in that individual.
The mild/juvenile form of Canavan disease is extremely uncommon. Affected individuals have mildly delayed development of speech and motor skills starting in childhood. These delays may be so mild and nonspecific that they are never recognized as being caused by Canavan disease.
The life expectancy for people with Canavan disease varies and can depend on the quality of care as well as what mutation or mutations the affected child is born with. Children who are born with the most common severe form of the disease can live into their teens or twenties with excellent care. There are many factors that determine how long a person can live with Canavan disease.
We receive special funding each year to cover all of our administrative and operating costs, so 100% of your donations will be directed towards research, unless earmarked for our Family Networking Program. Please contact us for more information about earmarking funds for a specific program.