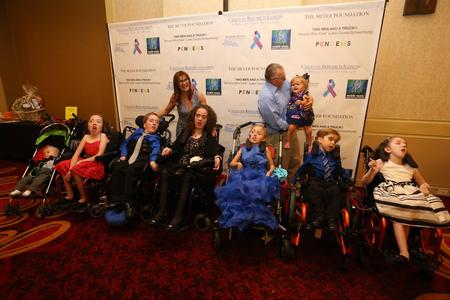 Jax, Celeste, Max, Ashtyn, Lilliana, Tommy, and Natalya in the Front
Back Row: Dr. Paola Leone and GraceLynn With Donald
Seeking Additional Sponsors for Our New 2017
Canavan Family Networking Program
A generous donation from Brent Bauer and Mary LaLoggia will enable up to 20 affected families and their children to attend The 19th Annual Canavan Charity Ball at no cost, as well as receive a free Sunday breakfast buffet at the Chicago Marriott in Schaumburg, Illinois.
As the mother of a 19-year-old son who is living with Canavan disease, it has been my life's mission to aggressively fund research towards discovering the cure. But it is also extremely important to help families affected by this disease be able to meet each other without asking them to spend an astronomical amount of money, or making it necessary for them to do their own fundraising just to attend.
I know firsthand that it is extremely expensive to raise a child living with Canavan disease and my goal is to offer an additional sponsorship to cover the two nights at the Marriott in order to help ease some of the financial burden. This will make it possible for more families to attend the event without worrying about the expense of the hotel stay.
Families will have the opportunity to meet one another for the first time, or reconnect with old friends, learn about the most current research, and schedule private appointments with a team of doctors who specialize in Canavan disease.
This is a unique opportunity for everyone. There is no other program like this available for Canavan families anywhere. This is a chance to unite families with each other, the doctors who are working on Canavan disease, and also introduce families to some of the benefactors who have been supporting CRI for almost 20 years. Canavan disease is rare and unlike any other disease. I want to give more families an opportunity to meet each other during a relaxing weekend where the entire focus is on Canavan disease and helping our children!
If you are interested in becoming a sponsor or hosting a fundraiser to help families, please contact me. Even if you are unable to help, please SHARE this post! I have several months to raise the funds but I can't do it alone!
Canavan Research Illinois is a tax-exempt charitable organization; all donations are tax-deductible to the full extent of the law.
Ilyce Randell